In the last few years, we have experienced various uses of biometrics in our daily lives. Several mobile phone manufacturers have brought fingerprint technology for smartphones; Siri, Cortana, Amazon's Echo Dot brings voice recognition; Windows 10's Hello brings facial recognition for login.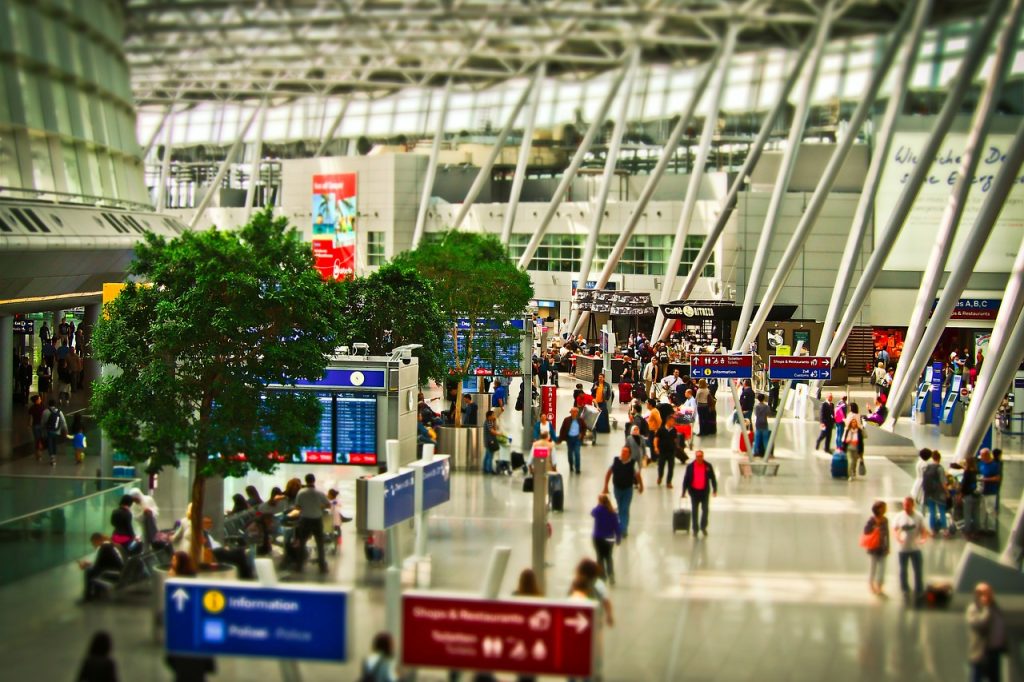 Moreover, biometric technology is now the latest public demand in many areas like border security, national database, healthcare, workforce management, etc. If it is applicable to these places, it surely fits in the airport.
In 2016, 3.8 billion passengers travelled by airplane to visit their particular destinations. The number is expected to be doubled to 7.2 billion within the next 20 years. But, will airports be capable of handling this huge capacity by that time? The current reality of airports doesn't say so.
Moreover, it is an era when the security tensions are at its peak everywhere, including and probably the most in airports. Everyday 10.84 million people use airports to travel around the world, according to a report analyzing the numbers from 2016. A solution is needed to make the check-in and check-out process faster, as well as, ensure public safety and national security.
What is Facial Recognition Technology?
A facial recognition technology is a biometric identification solution that can recognize a person from a digital image or a video frame from a video source. This technology is highly applicable in security systems and comparable to other biometric traits such as fingerprint or eye recognition system.
Learn More: What is Iris Recognition?
Our research team found the top countries who have adopted airport facial recognition systems already. Let's take a look at the list:
US Airports: Recently, U.S. Customs and Border Protection, (CBP) has announced the decision to apply face recognition technology in airports. This system will be applicable to all passengers, including U.S. citizens who board flights to exit from the country. A report by surveillance law researchers says, the Department of Homeland Security has secured a budget of $1 billion USD for the "Biometric Exit Program". At this moment, biometric facial recognition technology is being used at nine U.S. airports including:

Boston
Atlanta
Chicago
Las Vegas
Miami
New York
Washington DC and
Houston (2)

England: Facial recognition technology is currently deployed at all major airports in the UK. They call it "e passport gate" that uses biometric face recognition system to compare your face to the photograph recorded on the chip in your passport. If the database (read government) has no complaint against you, the gate will open automatically for you to walk through. To be eligible for using the e-Passport gates, you need a chipped biometric UK, EU, EEA or Swiss passport.
Fully enrolled members of the Registered Traveler Service (who hold a biometric passport) can use the ePassport gates.
Manchester
Heathrow
Gatwick
Stansted
Luton
Canada: Ottawa International Airport and the Canada Border Services Agency have announced to bring airport facial recognition technology to all major Canadian airports as part of a new traveler screening program. Biometric technology firm, Vision-Box, implements 130 kiosks at Toronto's Pearson International Airport. The system is deployed in all major cities including:

Toronto
Quebec City
Ottawa

Australia: The federal government has planned to invest $22.5 over the next three years to implement facial recognition technology at all major airports in Australia. Vision-Box, a biometric technology company partnered with the Australian government to deploy facial recognition system in 105 smart gates, It is a part of the government's $123.6 million investment to tighten its border security.
Brisbane Airport is the first Australian airport to adopt airport facial recognition technology that is being used by 2.7 million passengers each year to travel between Australia and New Zealand. A report says that this technology helps them to reduce processing times for boarding and check-in by 70 percent. Major cities in Australia who adopted facial biometrics are the following:
Brisbane
Melbourne
Sydney
UAE: Around 15 million travelers visit Dubai every year, making the Dubai International Airport one of the busiest airports in the world. As like other airports, they also have a plan to adopt face recognition technology. They have even better plan than others because they have taken it to the next level by implementing the facial recognition camera in an aquarium. The aquarium will be equipped with 80 invisible cameras that will identify passengers as they walk around.
Japan: The Justice Ministry of Japan announced their plan to deploy facial recognition technology at major airports to fast-track Japanese passengers while allowing more officials to screen foreign nationals. The intention of the government is to defend terrorism and block illegal entry to Japan. As they expect 40 million travelers by 2020 and 60 million by 2030, it will be impossible to check this huge amount of visitors without an automation process in place.
China: Facial recognition technology first came to Chinese airports through the China Southern Airlines. This AI-enabled technology was developed by technology giant Baidu and GRG Banking. It was first implemented at Jiangying Airport in Nanyang city, Henan province. As usual, passengers can skip the boarding pass at check-in, as cameras already recognized their faces with their passport photos. It is also applicable for the boarding gates to confirm their identity.
Germany: Germany introduce introduced facial recognition technology at not only airports but also train stations in order to counter terrorist threats and improve the transportation system in total.
Russia: Russia adopted facial recognition technology at Moscow Sheremetyevo International Airport, back in 2011 with 100% accuracy rate. This system came to International airport of Sochi in 2013 to ensure the security of Winter Olympics 2014.
NTechLab, a Russian technology firm won the first ever Face Recognition Challenge Prize by National Institute of Standards and Technology (NIST) and it was recognized as the best facial recognition technology company.
Ireland: 20 e-passport gates equipped with facial recognition technology have been installed equally in terminals 1 and 2 at Dublin Airport. People can use these e-gates if they are Irish passengers, EU, EEA and Swiss visitors over 18 with an electronic passport as well as, Irish passport card holders. Only one single officer is enough to monitor these.
Scotland: Scotland has installed 5 e-Passport gates at International Arrivals 1, at Edinburgh Airport. In addition to that, they have installed 10 new e-Passport gates at International Arrivals 2, in 2017. They expect to accelerate the processing time and mitigate the security threats by using airport facial recognition technology.
Switzerland: Switzerland started trialing biometric face recognition technology from September 2017 at Zurich airport. Initially, eight scanning machines were implemented in order to improve the security and make the immigration processing faster.
France: After several terrorist attacks took place in Paris, they thought to implement biometric security to mitigate the risk of further attacks. Groupe ADP, operating body of Paris's airports, has begun the trialing of face recognition solutions at Charles de Gaulle airport. They expect that it will speed up the immigration process, as well as tighten the security.
New Zealand: New Zealand Customs trials airport biometrics facial recognition technology in its major airports. They partnered with biometric technology firm Morpho for a 5-year agreement to improve the passengers' experience by speeding up the long authorization process and tightening the airport
Finland: Finavia, the operator of Helsinki-Vantaa airport, has begun facial recognition technology from May 2017 to date. They asked 1000 frequent passengers to take part in this system. They are expecting to apply the technology on a much larger scale in the future.
Hong Kong: Hong Kong has launched new facial recognition technology in October 2017 at their airports to make a faster getaway from the city. The authority expects this system to reduce the average passenger processing time from 50 seconds per person to 20 seconds. They believe that this system will be capable of scanning 5 million visitors annually.
The Netherlands: Amsterdam Airport Schiphol and KLM trialed a face recognizing door with which passengers can board a plane without showing their passport and boarding pass, more than once. The system is installed at a selected gate in the airport. The whole process is involved with the passenger's passport, boarding pass and face being scanned.
Singapore: Singapore's Changi Airport is one of the best airports in the world, which started trialing face recognition technology. Initially, the test was run on the newest terminal no. 4 from October 2017. They also implemented tomography scanners that allow laptops to remain in bags during security checking.
Romania: The Bucharest National Airport Company (CNAB), the operating body of two airports of Bucharest, has brought facial recognition technology to its airports. Around 5.92 million passengers transited the two airports in the first six months of 2017 that is 20% higher than the same period of 2016. To maintain the surveillance system, and mitigate the long queue, the authority decided to bring this latest technology in the airport.
Qatar: Qatar's Hamad International Airport (HIA) is going to implement facial recognition technology very soon. Passengers will be able to pass through the immigration process by only showing their face as their passport.
Panama: Panama has been using facial recognition technology for its airport security since 2011 at Tocumen International Airport. They eventually expanded the service in 2014 as it proved to be successful in identifying suspects.
Despite all the benefits of airport facial recognition technology, there are some security concerns too about the misuse of this technology. A report says that facial scanning violates the American privacy.
Biometric technology brings a solution which eliminates the long waiting and ensures robust security. All types of travel documentation are soon going to be replaced with biometric attributes soon. Ultimately, it will provide you a harassment-free traveling experience allowing passengers to go through all the security checks from curb to cabin without showing any documents to anyone.